When the first trailer of the movie released, which had bald Voldermort looking Sanjay Dutt taking head on with an intense Hrithik Roshan, one only hoped that it would bring an end to drought of villain characters that were so easily producible earlier. One of the most cherishing moments in such movies were not the mustanda exchanges between Hero and the Villian fist,punch in the stomach fight sequences but the confrontation scenes, where
one could take a dig at each other .
So if I ask when was the last time we saw a hard core negative character, who enjoyed playing the Evil ,*stylishly* delegated tasks to his subordinates to wipe out the Good, by keeping a check on Hero's lady of her whereabouts, and the one who created his own world with Wines and Women. I say None. Last couple of years saw none of these elements in any characters. Prakash Raj even with his spontaneity could only portray hyperactive roles in Wanted, Buddha Hoga Tera Baap and Singham. SRK's proclamation of his negative character in Don2 is farcical to say the least. Even Sanjay Dutt got an opportunity in Aladdin, but with little screen space and meat.
Hence Sanjay Dutt's portrayal of Kancha Cheena in 2012 becomes the only hope to get back to those characters.
Karan Malhotra's visualization of a Kancha Cheena as a sadomasochist, a self-proclamation of Ravana with an introduction line "Tum Leke Aaye ho, Tum Kya leke Jaoge" is spot on and believable. But in the bigger picture it fails to strike the chord. Here's how.
Karan Malhotra's version of revenge drama is not a remake to start with. The basic idea of the movie remains the same, but then so much has been tweaked that in an attempt to make an original, it ends up spineless and heartless, with over the top drama. An absolute tripe compared to the original. Even if it's not compared with the Mukul Anand's version it presents us with all the clichés of Karan Johar movies that we are so familiar with.
Mukul Anand's version which now has got a huge following because of Amitabh's swagger and then infamous voice (Inspired after Marlon Brando's character in Godfather) is not only about Vijay Dinanath Chauhan's retribution against businessman Kancha Cheena. Its also about a boy's rise from the alleys of Mandwa to the Godfather of Mumbai. But in Karan's version Vijay ends up as a Godfather of a local slum called Dongri, which later is turned into a K3G's Yash Raichand's family function, much to the liking of Karan Johar's audience.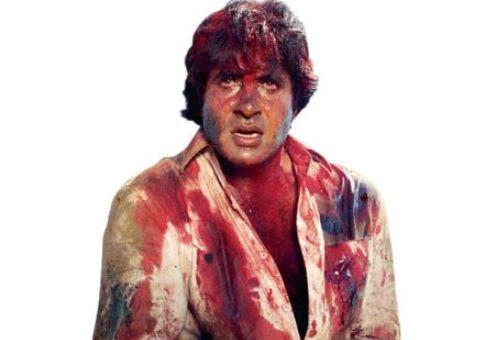 Many feel that the performances in the original were over-dramatic. Be it Vijay's arrogance while flaunting his appointment with death, or his fumbling of words while conversing with officer Gaitonde or scaring shit out of his partners in crime, Amitabh did it all effortlessly. But was it Dramatic ? Yes. But if we have liked and followed him in Hum and others, then there's no reason why we shouldn't admire him here. One cannot find such instances in the newer version at all. In fact there isn't a memorable scene which would make you stand up and shower seetis. One of the important aspects of the original version was the "action-packed" dialogues viz Kancha Cheena's favourite "Jo daayan haath karta hain , bayein haath ko pata nahi chalna chahiye, Yeh humara usool hai" and my favourite
"Jala Daala .. ".
But then there isn't a single line which provides such fun.
Instead it tries to cover up by inducing 1st level of RGV's violence and some basic twists which we have already seen a million times in RGV's earlier movies . And all this happens with intense looking Hrithik Roshan at the center, void with any style. Hence delivering a plain and unimpressive performance compared to Amitabh.
If there is any kohl-eyed moment in the newer version , then its Rishing Kapoor as Rauf Lala. A conniving Don who plans, plots and almost pin down Vijay Dinanath Chauhan , hence making it more delightful to watch. Lala's is a culmination(or say replacement) of all 4 local gunda characters of the original one. It's a treat to watch him play Bad and is the only silver lining in this movie. Equally painful is to watch Kancha Cheena's character with the Sanjay Dutt's "Isko Bolte trigger" repetitive look from Vaastav. Neither he is wild and funny as Amrish Puri in Mr.India and Vishwatma or Jaichand in Farishtey, nor is he absolutely serious as Dr.Dang in Karma.
Unlike the clean , suave Danny Dengzopa the new Kancha has any logic and tries to impress audience with his constant eye-popping evil grins.
Yet again an original is ruined.
And yet again the fandom for original increases.